Type AR
Submersible mixers with gear drive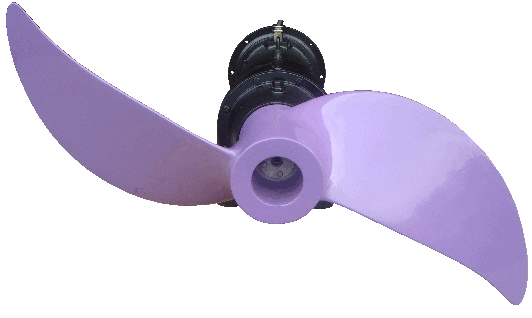 OVERWIEV
Equipped with reducer mixers of type AR are used to provoke a circulation of waste water in tanks, channel, oxidation ditches of different size and shape at considerably vast distance. Medium or slow propeller speed enables homogenization of the sewage and prevents from sedimentation. Together with mixing and keeping water in flow mixers speed up chemical and physical processes such as gas dispersion and dissolution of solids. Mixers of type AR are produced with laminate and stainless steel casted propellers. Depending on particular gear ratio the range of propeller velocities considerably varies which make possible a very accurate seizing of equipment according to requirement of process and tank geometry. Because all of these facts mixer with gear drive use to be applied at waste water plants in digestion chambers of different shape and size, in biological reactors, for example chambers where take place removal of phosphorus, in nitrification and denitrification tanks.
DESIGNATION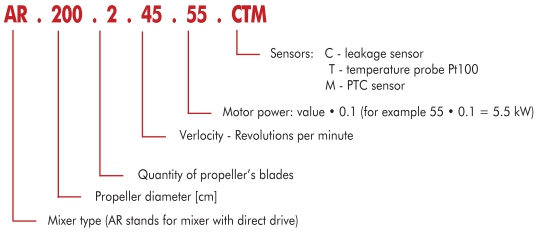 SIZES
Submersible mixers with gear driver of AR type are featured with stainless cast steel propellers of diameter from 580 mm up to 800mm, two or three blades, power from 1,1 kW to 18,5 kW, RPM from 200 up to 430.
Submersible mixers with gear driver of AR type are featured with laminated propellers made of synthetic resins reinforced with glass fibres of diameter from 900 mm up to 2500mm, power from 1,1 kW to 11,0 kW, RPM from 19 up to 320.
Mixer model
Propeller diameter [mm]
Number of propeller blades (steel propellers)
Revolutions range [RPM./min.]
Motor size
Motor power [kW]
AR.58


580
2, 3
200÷400
3
1,5
1,8
2,2
3,0
4,0
300÷500
5
5,5
7,5
9,2
11,0
AR.65
650
2, 3
150÷300
3
2,2
3,0
4,0
300÷450
5
5,5
7,5
9,2
11,0
AR.80
800
2, 3
100÷250
3
2,2
3,0
4,0
200÷350
5
5,5
7,5
9,2
11,0
4,0
5,5
7,5
Mixer model
Propeller diameter [mm]
Number of propeller blades (laminated propellers)
Revolutions range [RPM./min.]
Motor size
Motor power [kW]
AR.90
900
2, 3
100÷170
3
1,5
1,8
2,2
3,0
4,0
170÷250
5
5,5
7,5
9,2
11,0
AR.120
1200
2, 3
65÷90
3
1,5
1,8
2,2
3,0
4,0
90÷120
5
5,5
7,5
9,2
11,0
AR.150
1500
2
50÷80
3
2,2
3,0
4,0
80÷100
5
5,5
7,5
9,2
AR.170
1700
2
50÷65
3
2,2
3,0
4,0
65÷85
5
5,5
7,5
9,2
AR.200
2000
2
35÷50
5
3,0
4,0
5,5
7,5
AR.220
2200
2
35÷50
5
3,0
4,0
5,5
7,5
AR.250
2500
2
30÷50
5
3,0
4,0
5,5
7,5
FEATRUES OF STANDARD VERSION OF AS MIXERS
Propellers geometry guarantees maximum efficiency while maintaining energy consumption on low level; self-cleaning design, special shape of blades prevents solid particles from settling down;
Propellers for smaller AR mixers (propeller diameter up to 900 mm) entirely made as one-piece stainless steel cast; casting technology Allowi us to pro duce propellers featured with diversified thickness of blades, this feaute improves generated thrust significantly; propellers are available In two versions: with two or three blades;
Propellers for bigger AR mixers made of synthetic resins reinforced with glass fibres; their advantage is very low weight, even in case of biggest models of diameter up to 2500 mm; also mechanical hardness is very high; two blades;
Two independent leakage sensors located in motor chamber and cable terminal case; due to its arrangement sensors guarantee detection of even smallest quantities of liquids; related electronic modules allows to switch off a mixer immediately;
Three bimetal thermo-contacts, located at each of motor's phases, contacts stop the motor if temperature limit equal to 145 Celsius degrees is exceeded; Winding of the motor covered with double insulation layer of class F;
Electronic module cooperating with leakage and temperature sensors; purposed for installation within control cabinets located around mixers. Each electronic module is composed of controller and power feeder. Electronic modules gather signals from sensors and send appropriate information to central control system;
Helical reducer conveys power from motor to propeller; maintenance free model, bearings' durability calculated for 100 000 working hours;
Mixer' s body and covers made of grey cast iron, covered with multilayer, double component epoxy coating; strong resistance against corrosion;
Mechanical SiC/SiC seal, located In Buffet chamber filled with oil; effectively protects against leakage from the front side;
Labyrinth and lip seals protects the double mechanical seal against bad impact caused by solid particles; significantly improve mixer's life-span and malfunction-free period; additional seals between reducer and motor's body;
All static connections sealed by means of O-rings packs, additiona lly assured with Loctite sealant;
Power cable of 10 m length, made of special materials, capable for long operations in submersion, even in aggressive environment.
Cable gland providing Total leak resistance and securing cable against being accidentally pulled out;
Solid design guarantees high mechanical durability and long-term, malfunction free exploitation under any conditions;
AVAILABLE OPTIONS OF AR MIXER
Mixer's body and covers made as one-piece cast made of stainless or acid-proof steel, perfect for operation in particularly aggressive and harsh environment as well as for every application where the highest quality is required;
Propellers made as one-piece acid-proof steel casts;
Outer layer made of paint with ceramic additions, characterized by strong mechanical wear resistance;
Additional leakage detection probe In the buffer chamber just in front of the gear box;
Additional temperature probe Pt100 located at one of stator's phases, purposed for reading current value of motor's wirings temperature;
Additional PTC sensor, providing the same functionality as thermo-contacts;
Motor with insulation of class H;
Control cabinet for installation around mixer, composed of control and power elements; it can be used both for manual mixer's control and for acting as a part of central control system;
Mixers are made for the following power sources 380V, 60Hz; 400V, 50Hz; 460V, 60Hz;
CHECK OUT
Example characteristic card – AR.170.80.90 mixer - download